Call Us 7 days A Week
1.888.893.7464
$100 OFF Vietnamese Basic Package 200W BMB Bluetooth Amplifier & 3-Way Vocal Speakers 61,500 Songs Included (ETA Late June)
$100 Instant Rebate
---
Package Includes:
---
Phiên bản 8TB HDD với hơn 61,500 bài nhạc chọn lọc (46,500 nhạc Việt)
Chọn bài hát thông qua Smartphone, t́m kiếm theo tên bài hát, ca sĩ, nhạc sĩ sáng tác, trung tâm phát hành và nhiều tính năng ưu việt khác sẽ có cụ thể trong hướng dẫn sử dụng đi kèm sách nhạc.
Chọn bài hát nhanh chóng và dễ dàng thông qua mă số trên sách nhạc đi kèm máy, Sách nhạc được tối ưu hóa ưu tiên những bài hát hay nhất, mới nhất giúp người dùng t́m kiếm dễ dàng hơn.
Hát offline ngay tại ổ cứng với kho dữ liệu khổng lồ được đầu tư bài bản và độc quyền
Hát online ngay trên YT với những bài nhạc ca sĩ vừa ra mắt nóng hổi vừa thổi vừa hát, và c̣n nhiều điều hấp dẫn đang chờ đón Quư Khách.
Tại sao chúng tôi gọi Gia Hân SmartKaraoke là Siêu Phẩm Karaoke Player & Media Center tốt nhất hiện nay, hăy cùng t́m hiểu những thông tin dưới dây chúng tôi cố gắng tóm tắt và Quư khách hàng trải nghiệm sẽ là đánh giá chính xác nhất.
Đây là 1 thiết bị chơi Karaoke chuyên nghiệp và v́ vậy tính năng Karaoke sẽ được chúng tôi đề cập giới thiệu nhiều hơn, ngoài ra Gia Hân SmartKaraoke cũng là một thiết bị Play Phim nhạc 4K, 1080P… với chuẩn âm thanh được hỗ trợ mạnh mẽ và tốt nhất hiện nay.
#1 Về chất lượng h́nh ảnh và âm thanh luôn là ưu tiên hàng đầu với một thiết bị Karaoke chuyên nghiệp, và đây là những ǵ quư khách sẽ nh́n thấy trên màn h́nh TiVi của ḿnh.
– Âm thanh bài nhạc luôn đạt chất lượng tốt nhất với âm lượng đồng đều không bị hiện tượng bài lớn bài nhỏ, Track Karaoke và Music luôn chính xác không bị đảo ngược, Quư khách sẽ không mất công điểu chỉnh âm lượng hoặc tắt mở lại giọng ca sĩ (đảo track) khi hát.
– Tuyệt đối không xảy ra hiện tượng đứng h́nh, khựng nhạc khi tắt mở giọng ca sĩ (đảo track) Cũng như khi chuyển qua bài tiếp theo. Mọi thứ rất nhẹ nhàng và mượt mà ngoài sức tưởng tượng.
#2. Về thuật toán t́m kiếm bài hát đă được các kỹ sư của Gia Hân tối ưu tốt nhất có thể, giúp Quư khách t́m được nhanh chóng bài hát yêu thích mà không mất nhiều thời gian.
Trên Smart Phone quư khách t́m kiếm Gia Hân Smart Karaoke Remote tại Google Play(Android) Hoặc App Store (IOS) để cài đặt phần mềm điều khiển đầu máy Gia Hân Smart Karaoke.
---

The BMB DAH-100 High Performance Digital Karaoke Amplifier designed in Japan to bring premium BMB sound quality into your living room. All the essential mixing functions such as low, mids, and high adjustments are available for microphone, echo, music and master volume controls. Individual volume control for two microphones with gain adjustment, echo delay and repeat, and master balance controls are available for fine tuning.
Bluetooth lets you connect your smartphone or tablets and play your music with excellent stereo sound. The DAH-100 is a 2-channel amplifier 100W per channel which fills your party with 200W of solid power. This is perfectly paired with the BMB CSH-200 Vocal Karaoke Speakers (optional). An RCA subwoofer output is built in so you can send the correct fine tuned audio signal to the BMB CSH-W200 8" Subwoofer (optional).
This amplifier features seamless AC input voltage from 100V to 240V making it compatible worldwide. The new switching power supply technology reduces weight significantly making installation or moving to other locations easy.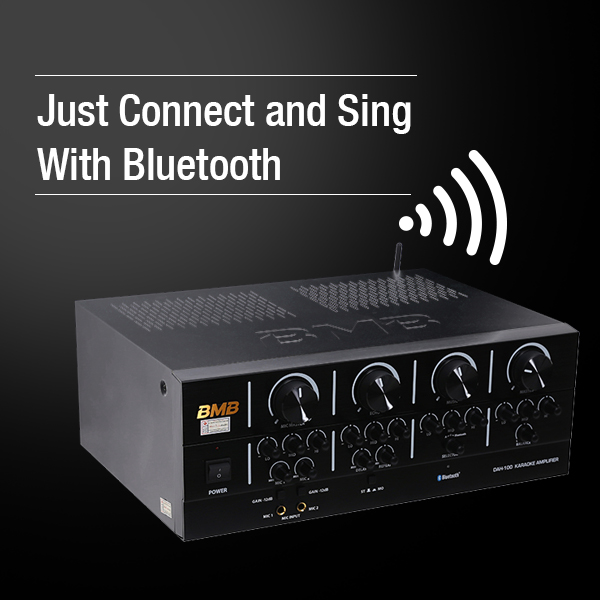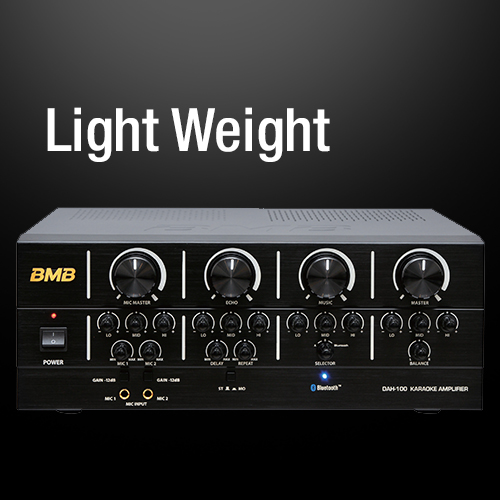 Specifications:
Max Output Power: 100W x 2CH (4-8Ω, EIAJ)
Audio Input: 3 Systems (AUX1, AUX2, Bluetooth)
Mic Input: 2 Systems
Echo: 2 Modes (Stereo, Mono)
Equalizer: 3 Bands (Master, Music, Mic, Echo)
Bluetooth: Ver4.0, Supports A2DP
AC Input: AC100V ~ 240V (50/60 Hz)
Dimensions: 16.54" x 6.65" x 13.43", 420mm x 169mm x 341mm
Weight: 10.8lbs, 4.9kg
---
---
Intoducing the brand new Home series from BMB (Best Music Brand), the CSH-200 is specially design for modern home use. The sleek, elegant and contemporary design of CSH-200 can easily blend with any modern or classic living room and bedroom. The CSH-200 is a pair of compact bookshelf speaker that fit in any space. For users who want to fill a larger room or enjoy more detailed bass, the optional CSH-W200 subwoofer can be added to CSH-200 to create a full range floor standing speaker. Beside looking stylish, every BMB home series speakers carry BMB heritage- crystal clear vocal voice, with powerful punching bass. It is a perfect speaker for karaoke and music lover.
The BMB CSH-200 Vocal Karaoke Speakers consists of a 3-Way, 3-Speaker system in each speaker cabinet. This speaker system will deliver your bass using two 8" woofers, your mids using two 3" squawkers, and your high frequencies will be handled with two 3" tweeters. The speaker cones themselves utilize BMB's special paper cones that are made in Japan. These cones, with their special materials and construction, are what ultimately deliver BMB's premium sound when paired with the BMB DAH-100 karaoke amplifier.
Specifications:
System: 3-Way, 3-Speaker
Woofer: 8" (20cm) Paper Cone Type x 1
Squawker: 3" (8cm) Paper Cone Type x 1
Tweeter: 3" (8cm) Paper Cone Type x 1
Max Input Power: 300W
Rating Input Power: 150W
Impedence: 8Ω
Dimensions: 10.63" x 18.31" x 10.43", 270mm x 465mm x 265mm
Weight: 16.1lbs, 7.3kg per piece
BMB Karaoke Speaker vs Listening Speaker
There are many distinctions as to why you should use a BMB karaoke speaker instead of regular speakers.
BMB Karaoke Speakers:
Vocals Can be mixed to music smoothly and can handle live audio from microphones better
Very wide listening position anywhere in the room
Emphasis on low-bass sound to show music rhythm to singers clearly
Anti-Howling measure for microphone
Play recorded sound sources such as CD and DVD perfectly
Listening/Regular Speakers:
Best listening position is the center of speakers (not wide)
Emphasis on high frequency sounds
Play recorded sound sources such as CD and DVD perfectly
---
The Acesonic UHF-5200 Pro is a True Diversity, 900MHz -100 Channels UHF Wireless Microphone System. This system operates in the 900Mhz range which goes even further up the UHF spectrum to interference. Most common systems operate in the crowded 600 and 800MHz range so the UHF-5200 Pro effectively avoids interference and sfrequency traffic jams with other systems. Excellent sound quality is provided by commercial grade UHF true diversity where 2 radio modules per antenna are continuously compared to select the strongest signal which delivers exceptionally stable radio signal. If you run into some interference, just select another channel from the many available. The microphones will auto-sync with the receiver via infrared. These two features combine to provide you with a very robust system. The microphones themselves are designed to pick up your voice very well so you always sound like yourself and don't have to worry about sound degradation. After many uses, most microphones do get dropped a few times which is why these are built a lot more rugged than others. Acesonic has developed this system to perform very well with emphasis on sound and build quality.
There are 8 different sound effects to choose from to help enhance your sound. Make your choice depending on your music type like Pop, Rock, Classic, Jazz, Dance, or R&B. Other effects can match your sound preferences such as Boost or Treble. Standard settings are available for those who want no effects or prefer to use their own EQ.
Features:
Commercial grade UHF true diversity system
8 Adjustable Sound Effects: Pop, Rock, Classic, Jazz, Dance, R&B, Boost, Treble3
CPU Control: A Micro Computer handles all the various functions such as frequency selection, display, sound settings and analyzing signals
Digital Frequency Synthesis Technology: Higher frequency stability
Digital Transmitting/Receiving Encryption
Single or Multi System Setup
Operates in 900-960MHz with 100 Channels - Avoiding crowded 600 & 800MHz bands & 160-260MHz VHF bands
Easy-to-Use infrared syncing feature and channel switching function
Two highly sensitive and durable microphones with LCD indicators
Rack-mountable
Specifications:
Overall:

Frequency Range: UHF 900-960MHz Digital Transmission
Digital Modulation Mode: pi/4DQPSK
Occupied Bandwidth: 300KHz
Transmission Rate: 204.8Kbps
Signal to Noise Ratio: 90dB
Frequency Response: 50~15KHz

Handheld microphone transmitter

Transmit Mode: Audio and Data using encrypted digital transmission
Dedicated Data Channel: 7kbps, internal CRC check
Capsule: Dynamic
Transmitting Power: ≤10dBm
Frequency Stabilization: ±0.005%
Battery: 2x 1.5V batteries

Receiver

Receive Mode: Digital Decryption Reception
Sensitivity: -94dBm
Download Instruction Manual
Would you like to help others by submitting a review? Create an account and earn points for your reviews!
We carry your favorite brands