Call Us 7 days A Week
1.888.893.7464
BMB CSV-450 Speakers with AM-2350 Amplifier 1400W Karaoke Sound System, Speaker Cable & Speaker Stand Package
Package Includes:
---
This is a genuine BMB, Best Music Brand, product. BMB is a top manufacturer originating from Japan.
BMB CSV Series
Best karaoke speaker in the world
High power
Next generation karaoke sound
Geared towards those who enjoy high tones and more bass
Have the new multicellular horn tweeters/squawkers to reproduce a wide sound
Tweeter Sound Pressure Level* SW is used for preventing howling
Woofers use highly reliable paper cone made in Japanese to get high quality sound
Why choose BMB?
There are many features and fine details in every speaker that make BMB the best karaoke speaker.
Double layer wood housing to handle powerful sound output
Speaker cabinet built with interlocking panels to strengthen the assembly as a whole when mounting
Durable mounting options utilizing a special fastener provide safety to the speakers and users
Strongly built speaker frame to join speaker cone and magnet together
Large and strong magnet behind the speaker cone contribute to the high quality sound output
High power, long diameter voice coil built with thick gauge wire
Reliable paper cone made in Japan
Green partner and ROHS Compliant to protect the environment
BMB Karaoke Speaker vs Listening Speaker
There are many distinctions as to why you should use a BMB karaoke speaker instead of regular speakers.
BMB Karaoke Speakers:
Vocals Can be mixed to music smoothly and can handle live audio from microphones better
Very wide listening position anywhere in the room
Emphasis on low-bass sound to show music rhythm to singers clearly
Anti-Howling measure for microphone
Play recorded sound sources such as CD and DVD perfectly
Listening/Regular Speakers:
Best listening position is the center of speakers (not wide)
Emphasis on high frequency sounds
Play recorded sound sources such as CD and DVD perfectly
Features & Specifications:
Type: 3-Way, 3-Speaker
Speaker: One 10" Woofer each, 3" Tweeter, 3" Squawker each
Max Input Power (Pair): 500W
Impedance (Pair): 8 Ω
Dimensions (Each): 21.96"(L) x 11.69"(W) x 11.49"(H)
Weight (Each): 25.35 lbs
Download Instruction Manual
---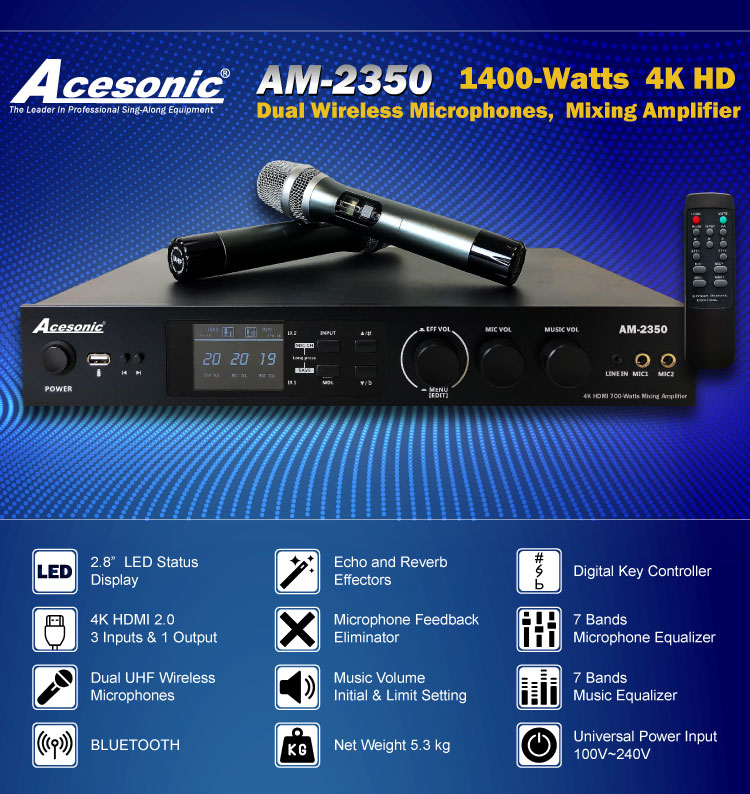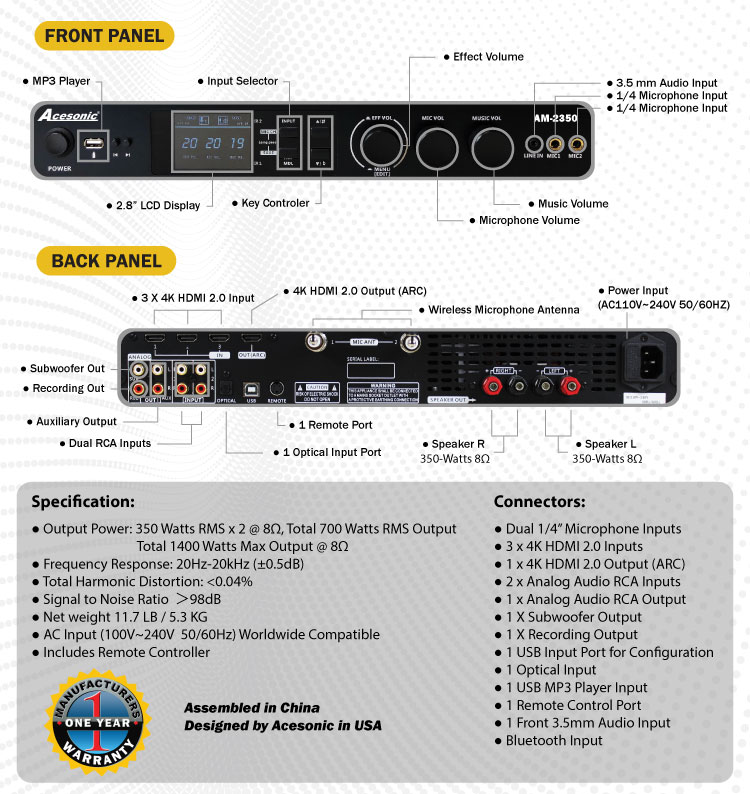 Acesonic AM-2350 Mixing Amplifier is one of the most compact and powerful mixing amplifiers on the market designed for the professionals. The 12-lbs, 1400-watts digital amplifier loaded with the most sought-after features for the serious users including support for 4K HDMI signals and powerful PC interface for you to turn this unit into the central of your multimedia entertainment console.
This 2.1 channels amplifier is designed not only for music and movie playback, it also combined all of the advanced features for karaoke, making this one of the best choices for the professional singers. The AM-2350 mixing amplifier has built-in two UHF wireless microphones that give you the freedom of singing without the need of connect to additional devices. The advanced reverb, echo and digital key-controllers combined with the 7-bands microphone and music equalizer can fine tune your performance to the optimal setting. The built-in feedback eliminator will help suppress audio feedback. All of the effect setting can be fine-tuned using your PC to make your singing more fun and enjoyable.
This versatile AM-2350 mixing amplifier will be the center of your entertainment hub with its multiple audio input connectors. Three 4K HDMI input allows you to accept signal from any hi-fi HDMI sources including TV-boxes, Blue-ray players or game consoles. An optical input for you to listen to music in its uncompressed PCM stereo format, a front mini-jack input give you the convenient of connect to any portable devices and a Bluetooth receiver can accept signal from your phone or tablet. Two 1/4″ Jack for you to connect to additional microphones or audio sources. Finally, the two RCA inputs can accept music from almost any audio devices. All of the audio signals can be feed to the 1400-Watts AM-2350 mixing amplifier, make it the ultimate choice for your sound system component.
Features:
• 2.8" LED Status Display
• Built-in Dual UHF Microphones Receiver and Included 2 Multi-Channels Wireless Microphones
• Built-in Echo and Reverb Effectors
• Built-in ±5 Digital Key Controller
• Built-in Feedback Eliminator
• Built-in 7 Bands Microphone Equalizer
• Built-in 7 Bands Music Equalizer
• Built-in 3 Bands Effort Equalizer and Subwoofer Equalizer
• Built-in Music, Microphone and Effect Volume Initial Turn-On Setting
• Built-in Music, Microphone and Effect Volume Maximum Limit Setting
• Built-in 8 Customized Profile Memory Settings
• Windows PC Controller Software via USB 2.0 port
Specifications:
• Output Power: 350 Watts RMS x 2 @ 8Ω, Total 700 Watts RMS Output, 1400 Watts Max Output @ 8Ω
• Frequency Response: 20Hz-20kHz (±0.5dB)
• Total Harmonic Distortion: <0.04%
• Signal to Noise Ratio >98dB
• Dimensions (H x W x D): 2.75" x 17" x 10.63" (70 mm x 430 mm x 270 mm)
• Unit Weight: 11.7 lbs / 5.3 kg
• Remote Controller Included
Download "Acesonic Am-2350 PC Controller" Below:
Acesonic Am-2350 PC Controller Chinese Version for Windows
Acesonic Am-2350 PC Controller English Version for Windows
Would you like to help others by submitting a review? Create an account and earn points for your reviews!
We carry your favorite brands