Call Us 7 days A Week
1.888.893.7464
YAMAHA STAGEPAS 600BT with Acesonic UHF-920 Portable 900MHZ Dual Wireless Microphone System
---
All the World's YOUR Stage
The new STAGEPAS features two sleek, lightweight speakers and a detachable powered mixer, along with one pair of speaker cables and a power cord, giving you a complete, extremely portable sound solution that can be set up quickly and easily in a variety of configurations and environments. By combining new high-efficiency amplifiers, newly designed speakers, and high performance DSP, the new STAGEPAS delivers a significant increase in power output (400W for the 400BT and 680W for the 600BT) as well as substantial improvements in sound quality and reliability. Complementing the boost in performance, the addition of iPod/ iPhone Bluetooth connectivity, SPX digital reverbs, an onboard feedback suppressor and more versatile EQ, has improved functionality and ease of use considerably, allowing STAGEPAS to meet the demands of a much wider range of applications and users.

The Ultimate All-in-One Portable PA System
You can take literally anywhere the all-in-one PA system STAGEPAS which is compact and light enough to carry by hand. The two lightweight speakers and a detachable mixer, along with one pair of speaker cables and a power cord, combine into an attractive, compact package that provides the kind of portability that no roadie would ever dare to dream of.
Fast and easy set-up
With its intuitive, simple design, STAGEPAS can be set up and ready to go in a matter of seconds. Even users with no PA operation experience will be able to produce high-quality sound in under a minute.
A PA for any occasion
Flexible enough to be used in a truly impressive range of environments and applications, STAGEPAS systems can be set up in a variety of PA and monitoring configurations.
Bluetooth® Wireless Audio Streaming
Equipped with a Bluetooth input for wireless audio streaming from smartphones or tablets, the STAGEPAS-BT models let you seamlessly play backing tracks for gigs, or set the tone of parties, conferences, or events with the audio playback of your choice
SPX digital reverb
One knob gives you access to four different high-quality reverb settings, perfect for vocals and acoustic instruments. Simply turn the knob to change the reverb type and time, and then you're ready to apply just the right amount of high-resolution effect to each channel
1-Knob Master EQ™
This new function gives you instant mastery of your mix, allowing you to match your sound to your surroundings. Simply turn the knob to optimize the EQ for speaking engagements, musical performances, or just to kick in more bass; getting your sound right has never been so easy.
Feedback suppressor
Avoid the uncomfortable feedback that plagues so many sound reinforcement novices and professionals alike. Usually found only on high-end gear, this intelligent function removes feedback automatically with the push of a button, giving you a clear, professional sound.
The new STAGEPAS was designed to offer high quality sound, simply and quickly to let you do what you do best. Whether you're giving a speech or playing a gig, STAGEPAS is equipped with intelligent new features that provide simple, intuitive control of optimized settings, making it easy to dial in your perfect sound in a matter of seconds.
More power. More possibilities
Delivering 680 and 400 watts of power respectively, the STAGEPAS 600BT and 400BT offer a major boost in performance, allowing you to meet the demands of a wider range of situations.
Same sonic experience throughout a wider coverage area
For use in larger spaces with a sizable audience, STAGEPAS is capable of delivering consistent high-quality sound throughout a greater coverage area than ever before with custom-designed speaker components that ensure the entire audience shares the same sonic experience.
Intelligent DSP for peak performance that lasts
STAGEPAS utilizes digital signal processing (DSP) to consistently produce high-quality, distortion free sound at any volume level, whether you're giving a business presentation or cutting loose in a club. What's more, Yamaha's intelligent DSP incorporates the use of advanced limiter circuits to protect vital STAGEPAS components, ensuring that you get the most out of your gear for years to come.
All the World's YOUR Stage
When it comes to portable live sound solutions, it doesn't get any better than STAGEPAS. With impressive power and sound quality, intuitive control, and a comprehensive array of flexible features, including a new Bluetooth® wireless audio streaming function, this all-in-one PA system builds on the STAGEPAS legacy of providing everything you need to transform any environment into your own personal stage.
Mixer Function
1. Channel EQ
2. Hi-Z switch
3. Switchable stereo/mono inputs
5. Reverb footswitch
6. Monitor out
7. Subwoofer out


A. Bluetooth
B. SPX digital reverb
C. 1-Knob Master EQ™
D. Feedback suppressor
Flexible Connectivity
Equipped with 10 channels or 8 channels respectively, the STAGEPAS 400BT and 600BT offer versatile connectivity, comprehensive channel functions, and seamless expandability that meet the growing demands of a wider range of applications and environments.
System Examples
---
System Examples
---
---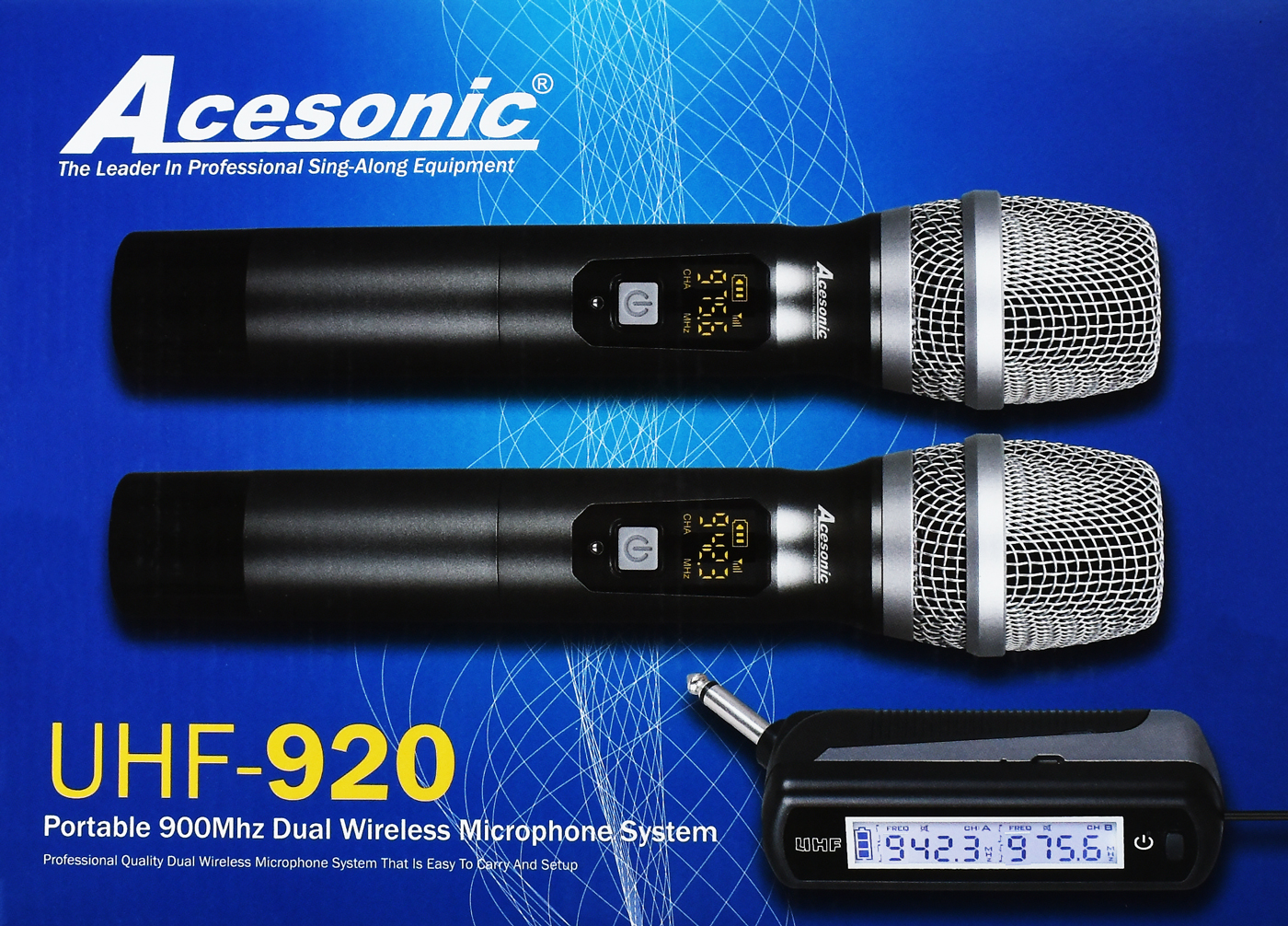 Portable Dual Wireless Microphone System Specification:

• 900Mhz Frequency Band Receiver
• 20 Selectable Frequencies for Each Microphone
• Auto-Frequency Synchronization with Microphone Receiver
• ¼" Microphone Jack Plug (Mini-Jack Adapter Included)
• LED Status Display Screen For
* RF Signal Strength Indicator
* Frequency Indicator
* Battery Status Indicator

• Utilize 18650 Lithium Battery for 4 to 8 Hours of Usage per Charge
• Mini-USB 5V Charging Port

Package Included:

• 2 x Wireless Handheld Microphones
• 2 x Anti-Roll Rings for Handheld Microphones
• 1 x Dual Channels Portable Microphone Receiver
• 1 x Mini-USB Charging Cable
• 1 x ¼" to Mini-Jack Adapter
---
Would you like to help others by submitting a review? Create an account and earn points for your reviews!
We carry your favorite brands