Call Us 7 days A Week
1.888.893.7464
BMB CSV-450 500W Speakers with Acesonic AM-200 Mixing Amplifier, Acesonic UHF-920 Dual 900MHz Wireless Microphone System, Speaker Stand (PR), and Speaker Cable Package
Package Includes: (click for full details)
Professional Heavy Duty Speaker Stands (Pair)
Acesonic BB715 15FT Banana to Banana Plugs Speaker Cable (x2)
---
The AM-200 is the latest amplifier we offer that fits the requirements for smaller environments. Too often, your only options were high-powered systems that are just excessive for your dorm room or apartment. Essentially purchasing a system you would never fully utilize. Smaller speaker systems just would not offer the same sound quality you're looking for. This amplifier will bring optimum sound to your party!
Features:
960W Maximum Power Output / 240 W + 240 W RMS 4 Ohms
480W Maximum Power Output / 120 W + 120W RMS 8 Ohms
3 Microphone Inputs
4 Audio Signal Processor - Enhances Music & Vocal Quality
Echo, Delay, Bass & Treble Microphone Mixing
Music Balance, Bass & Treble Adjustment
Individual Music & Microphone Volume Adjustments
Remote Control
Bluetooth connectivity for your mobile device and tablet. Stream your favorite musics in this amplifier
You can record your singing using the recording function. It is a great way to improve your singing skills
Specifications:
Power per Channel:

960W Maximum Power Output / 240 W + 240 W RMS 4 Ohms
480W Maximum Power Output / 120 W + 120W RMS 8 Ohms

Rated Input Level/Impedance

Audio input : 250mv / 47k
Microphones input: 15mv / 600 Ω

Separation
Frequency Response

Master Channel f=20 Hz-20KHz : < 2db

Signal To Noise
Speak System
Tone Control

Bass f=100 Hz
Treble f=10k Hz

Input power: AC 120V/60Hz
Power Wastage: 360 W
Dimensions (H x W x D):

5.12" x 17" x 12.6"
130 x 430 x 320 mm

Shipping Dimensions (H x W x D):

16.9" x 14.6" x 6.1"
430 x 370 x 155 mm

Unit Weight:
Shipping Weight:
---
This is a genuine BMB, Best Music Brand, product. BMB is a top manufacturer originating from Japan.
BMB CSV Series
Best karaoke speaker in the world
High power
Next generation karaoke sound
Geared towards those who enjoy high tones and more bass
Have the new multicellular horn tweeters/squawkers to reproduce a wide sound
Tweeter Sound Pressure Level* SW is used for preventing howling
Woofers use highly reliable paper cone made in Japanese to get high quality sound
Why choose BMB?
There are many features and fine details in every speaker that make BMB the best karaoke speaker.
Double layer wood housing to handle powerful sound output
Speaker cabinet built with interlocking panels to strengthen the assembly as a whole when mounting
Durable mounting options utilizing a special fastener provide safety to the speakers and users
Strongly built speaker frame to join speaker cone and magnet together
Large and strong magnet behind the speaker cone contribute to the high quality sound output
High power, long diameter voice coil built with thick gauge wire
Reliable paper cone made in Japan
Green partner and ROHS Compliant to protect the environment
BMB Karaoke Speaker vs Listening Speaker
There are many distinctions as to why you should use a BMB karaoke speaker instead of regular speakers.
BMB Karaoke Speakers:
Vocals Can be mixed to music smoothly and can handle live audio from microphones better
Very wide listening position anywhere in the room
Emphasis on low-bass sound to show music rhythm to singers clearly
Anti-Howling measure for microphone
Play recorded sound sources such as CD and DVD perfectly
Listening/Regular Speakers:
Best listening position is the center of speakers (not wide)
Emphasis on high frequency sounds
Play recorded sound sources such as CD and DVD perfectly
Features & Specifications:
Type: 3-Way, 3-Speaker
Speaker: One 10" Woofer each, 3" Tweeter, 3" Squawker each
Max Input Power (Pair): 500W
Impedance (Pair): 8 Ω
Dimensions (Each): 21.96"(L) x 11.69"(W) x 11.49"(H)
Weight (Each): 25.35 lbs
Download Instruction Manual
---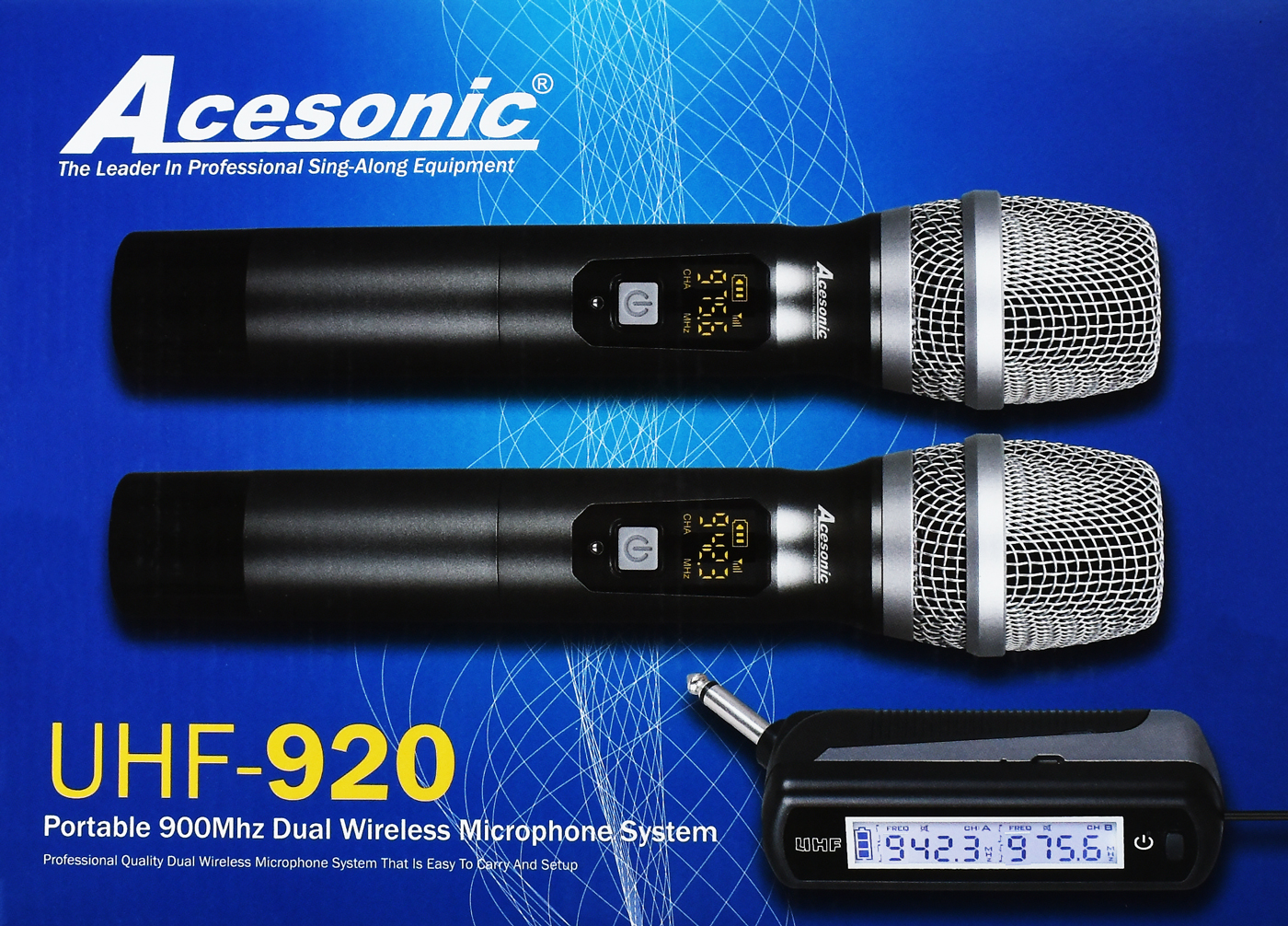 Portable Dual Wireless Microphone System Specification:

• 900Mhz Frequency Band Receiver
• 20 Selectable Frequencies for Each Microphone
• Auto-Frequency Synchronization with Microphone Receiver
• ¼" Microphone Jack Plug (Mini-Jack Adapter Included)
• LED Status Display Screen For
* RF Signal Strength Indicator
* Frequency Indicator
* Battery Status Indicator

• Utilize 18650 Lithium Battery for 4 to 8 Hours of Usage per Charge
• Mini-USB 5V Charging Port

Package Included:

• 2 x Wireless Handheld Microphones
• 2 x Anti-Roll Rings for Handheld Microphones
• 1 x Dual Channels Portable Microphone Receiver
• 1 x Mini-USB Charging Cable
• 1 x ¼" to Mini-Jack Adapter
Would you like to help others by submitting a review? Create an account and earn points for your reviews!
We carry your favorite brands